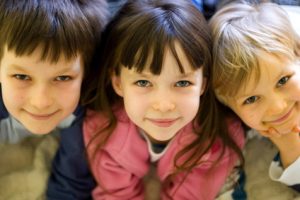 By: Judith Dember-Paige RDH COM
Usually, when you think of healthy kids you have visions of children eating fruits and vegetables for a great source of vitamins, minerals and fiber.  In order to get these benefits from the food, it is important to chew the food.  Each bite should be chewed approximately  15-20 times to extract the food nutrients as well as to produce the necessary enzymes to help digest the food.  Another important benefit from chewing fibrous food sources is to develop the muscles and bones needed to develop the face and jaws.
The muscles of our bodies were designed for regular use in order for our skeletal system to grow properly.  Our jaws and face are stimulated to develop beautifully when we eat foods that require rotary, bilateral chewing like apples, pears, celery, carrots, meats, natures foods.  When introducing foods to children it is important to meet them where they are.  Their veges and fruits may have to be steamed a bit for softening in the beginning so they can chew it.  Gradually, adding harder foods.  It is good to start young about 6 months, before they develop into finicky eaters.  Using tasty dips and inviting other kids over may sometimes have a positive behavioral effect to get them to discover the veges they love.
Learning proper chewing, breathing and swallowing is part of the orofacial myofunctional therapy.